How to Post Google Docs to a WordPress Blog Using Wordable
When I have to put together a blog post or article, I prefer to do it in Google Docs. That way, my work is accessible outside of WordPress or any other CMS.
Getting that blog post into WordPress or another CMS isn't always easy. Gutenberg editor has made it easier, but there are better ways.
First, you could copy and paste all of your Google Docs text into WordPress, it can be tough to keep the formatting consistent, so if you have H1s, H2s, photos, bolded words, or any other format, it won't work, and reformatting can take a long time. Then if you have images, you have to make sure WordPress correctly imports them and not just links to the external Google Docs image link.
But I came across a better solution – Wordable.
Wordable is a service you may want to consider if you want a seamless experience. This app integrates with both Google Docs and WordPress, so you can choose the documents you want to import, select your preferences, and automate the rest of the import process.
Wordable lets you export Google Docs directly to WordPress posts and pages. You can export your content from Google Docs to WordPress with just a few clicks, and the tags, headers, images, and outline will be carried over without issues.
With Wordable, the only issue is that you will be giving them access to your Google Drive through the WordPress site plug-in. That might be an issue for those concerned about security. But It comes with a free trial, so you can try it out.
The monthly fee for the app is steep but worth it if you're publishing content on WordPress. The pricing starts at $49 for 3 sites and 50 monthly exports, and I use the business plan with 15 sites and 110 monthly exports.
Using Wordable
Follow these steps to export from Google Docs to WordPress easily:
Step 1. Sign Up at Wordable for a trial account. You can use this link: Wordable
Wordable asks you to sign in with Google. Write your content in the account that's linked to your Google Drive.
Step 2. Add your website.
To use Wordable with WordPress, you need to download their plugin. From there, install the plugin and connect Wordable. Then you can start exporting.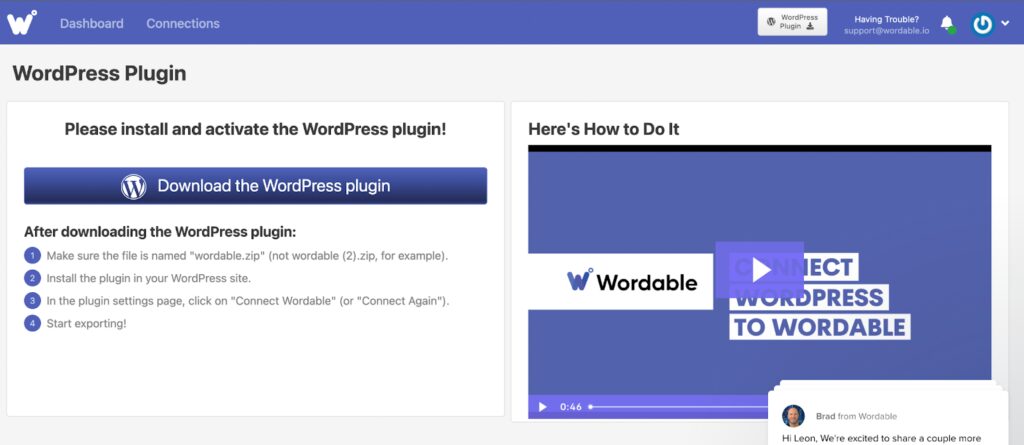 Step 3. Export
From there, you can start exporting documents into WordPress.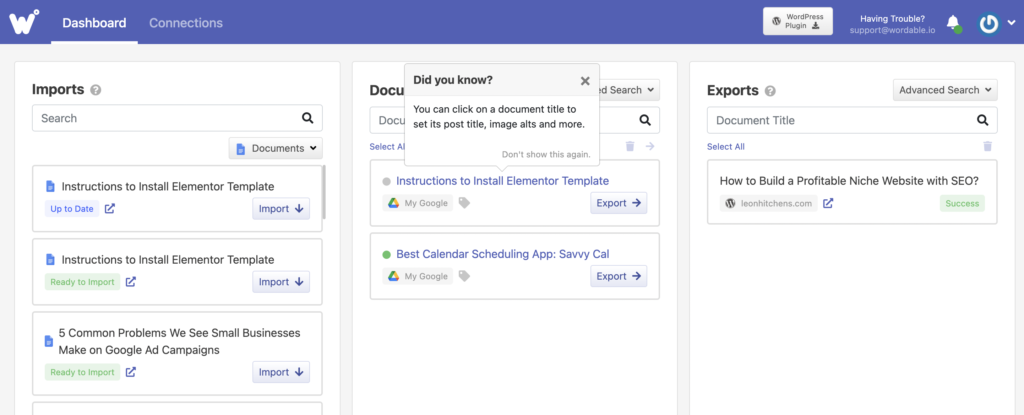 You'll see the screen on Wordable like above. You will have to "import" documents into Wordable, where formatting and content will be brought over.
Then click "export," where Wordable will bring over to the final tab. There you can edit settings, including the post slug, title, image names, select the featured image, and even add image SEO data.
If someone reviews the final post, they can put a status from "pending input" to "ready for export."
Once the post is ready, press "Manual WordPress" after selecting the post you wish to export. Wordable will let you set the post as published or a draft. I generally check off a draft and have one final check, add the OG image, and schedule to publish.
And just wait for like 30 seconds, and that's it! Your post has been imported successfully into WordPress.
Then once it's within WordPress – review the post and add any further SEO data. Finally, click Publish!
Summary
Those are the simple steps for importing your Google Docs content into WordPress.
There are alternatives, including using the Jetpack plugin connected with WordPress.com, but this may not always make sense since Jetpack offers a ton of other features and could clash with other Plugins. There is also the manual option of copying and pasting, but even with a VA, there are bound to be mistakes or more time wasted on the efforts.