Best Way for Freelancers & Agencies to Manage WordPress Websites
If you are a freelancer or agency, you may have a lot of WordPress sites to manage.
Each month, it can take dozens of hours to keep the WordPress core, themes, and plugins up to date. Then you have to consider security, backups, and page speed optimization.
The tools on the market to do this often come from different companies. In the past, I've used ManageWP and MainWP. They're two of the most popular options to manage WordPress installations.
ManageWP is the most widely known WordPress management platform. Godaddy acquired the company a few years ago, but it's overall a solid tool. MainWP is the self-hosted and self-managed version of ManageWP, allowing you to repurpose a WordPress installation as the backup, security, and update hub.
Both have pros and cons:
MainWP cons:
It's self-hosted, which puts the burden of managing it on you
Backing up large sites can get expensive
Requires some development knowledge to maintain
A bit clunky when compared to ManageWP
MainWP pros:
Free to download and self-host
Plugin options for dozens of other features
Options to upgrade for security and updates
ManageWP cons:
Cost is often high if you manage a lot of WordPress installs
It doesn't work on every host
Support is lacking from ManageWP
Owned by a large company (Godaddy)
ManageWP pros:
Flexible Pricing, choose what you want
Easy to use and set up
One plugin with either login creds or site key to setup
There are lots more pros and cons to each. ManageWP is active on WordPress with over 1 million sites. Another downside to ManageWP is the significant expense when you factor in hosting and the various other plugins you are likely using – A WordPress site can quickly become a large monthly expense.
I have the following services:
SiteGround Hosting – $40 /month
Gravity Forms – $259 /year (unlimited sites)
WP Rocket – $249 /year (unlimited sites)
ManageWP – $8 /month (per site)
SEO Press – $118 /year (unlimited sites)
Elementor – $499 /year (100 sites)
These plugins all together total up to a whopping $142 per month (Over $1,700 a year) in overhead. Now, if you have 10 WordPress sites, adding in the monthly cost for ManageWP, it's $223 a month. So it makes each WordPress site $22 a month to manage.
I started searching for alternatives to ManageWP that were more affordable or similarly priced but supported a smaller, independent team. I wasn't a fan of Godaddy owning ManageWP. Godaddy offers a ton of services, but they overcharge for domains and have a lot of turmoil in their past.
Then I came across WPMU Dev.
Their Hub product is what I initially looked at. I've used their plugins in the past and knew they were a strong WordPress plugin developer, but I didn't know they offered hosting and WordPress site management.
The Hub 2.0, compared to ManageWP, looked better designed and offered all the same features, plus many more! Then I went to pricing. WPMU Dev offers a SaaS subscription to their Hub, and you get their 11 Pro Plugins. Those plugins include:
Beehive

Google Analytics WordPress dashboard
WMPU Dev Dashboard

Support & connection to Hub
Beyond all the plugins, which meant I could cancel many of my other subscriptions, WPMU Dev also offered 24/7 support related to any WordPress issue you may encounter. They can even log in and actually fix the problem and the site for you; it's like having a team of expert developers on staff, but it's included in the monthly pricing.
Pricing as follows:
$19 /month for 1 WordPress site
$39 /month for up to 20 WordPress sites
$99 /month for unlimited WordPress sites
Currently, I have 12 WordPress sites under my management. That allows me to use the $39 a month plan – cancel Gravity Forms, ManageWP, SEO Press, and WP Rocket. Saving over $1,500 a year, plus getting extras like support, image optimization, website optimization, and other client management features.
Now, each plugin isn't the most robust option out on the market. However, it offers almost everything you need for SEO, site optimization, forms, and security. Here are my thoughts on each core feature of WPMU Dev Hub:
WPMU Dev Hub 2.0
The Hub is the ManageWP and MainWP comparable platform. It's well designed and snappy. I prefer this design to other options out there.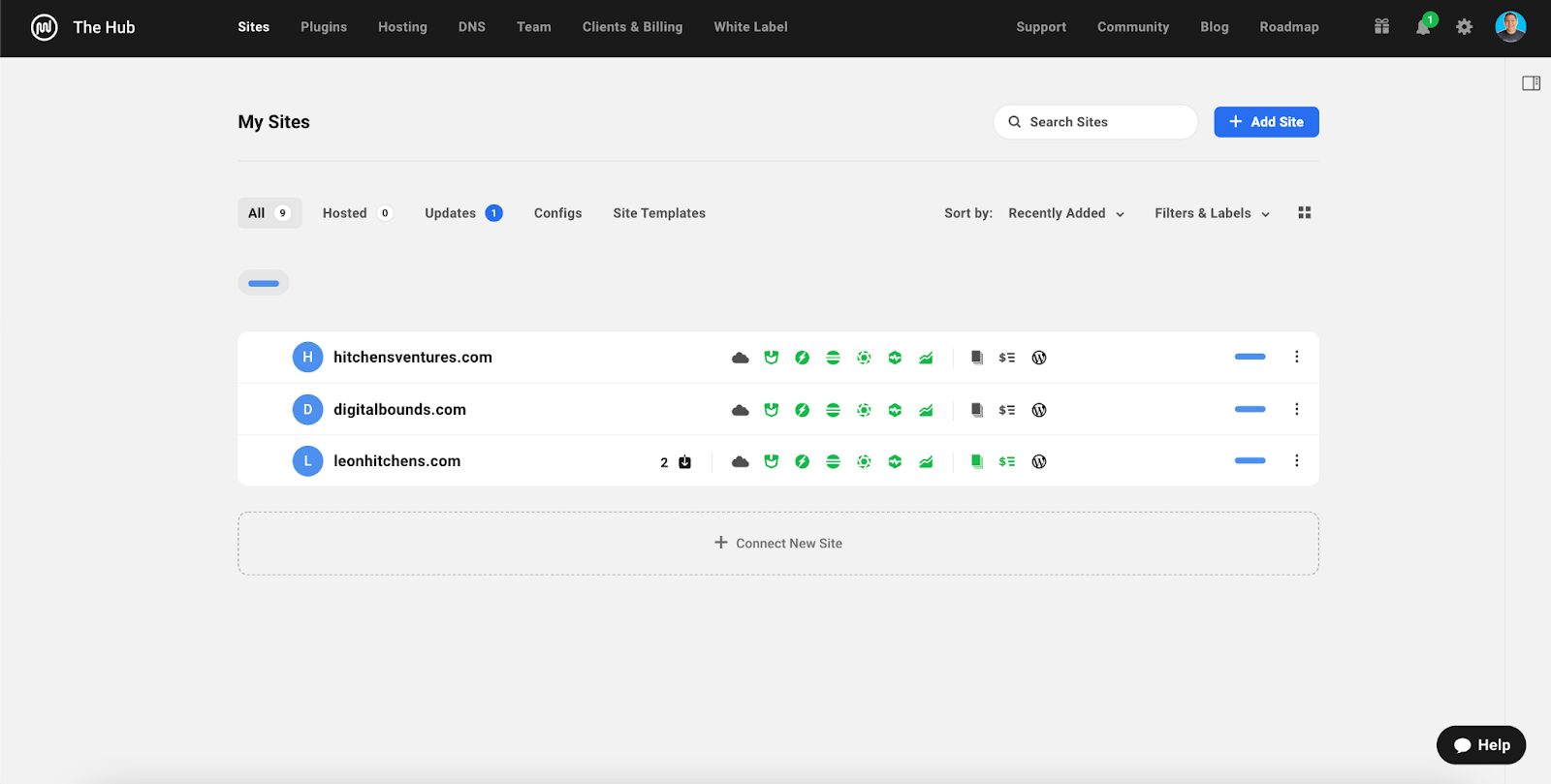 The dashboard is uncluttered, giving you access to the sites you need. For example, showing any issues – green is good, yellow is a warning, and red is a problem. It also gives a high-level overview of which sites have client reports, connected clients, and a button to log in quickly.
There are also settings to hide certain features; hosting was something I initially hid because I didn't have a use for it at first. Now I am trying their hosting option built into the hub because they provide a $10 hosting credit with both higher-tier plans.
Client Management
A unique feature from WPMU is client billing.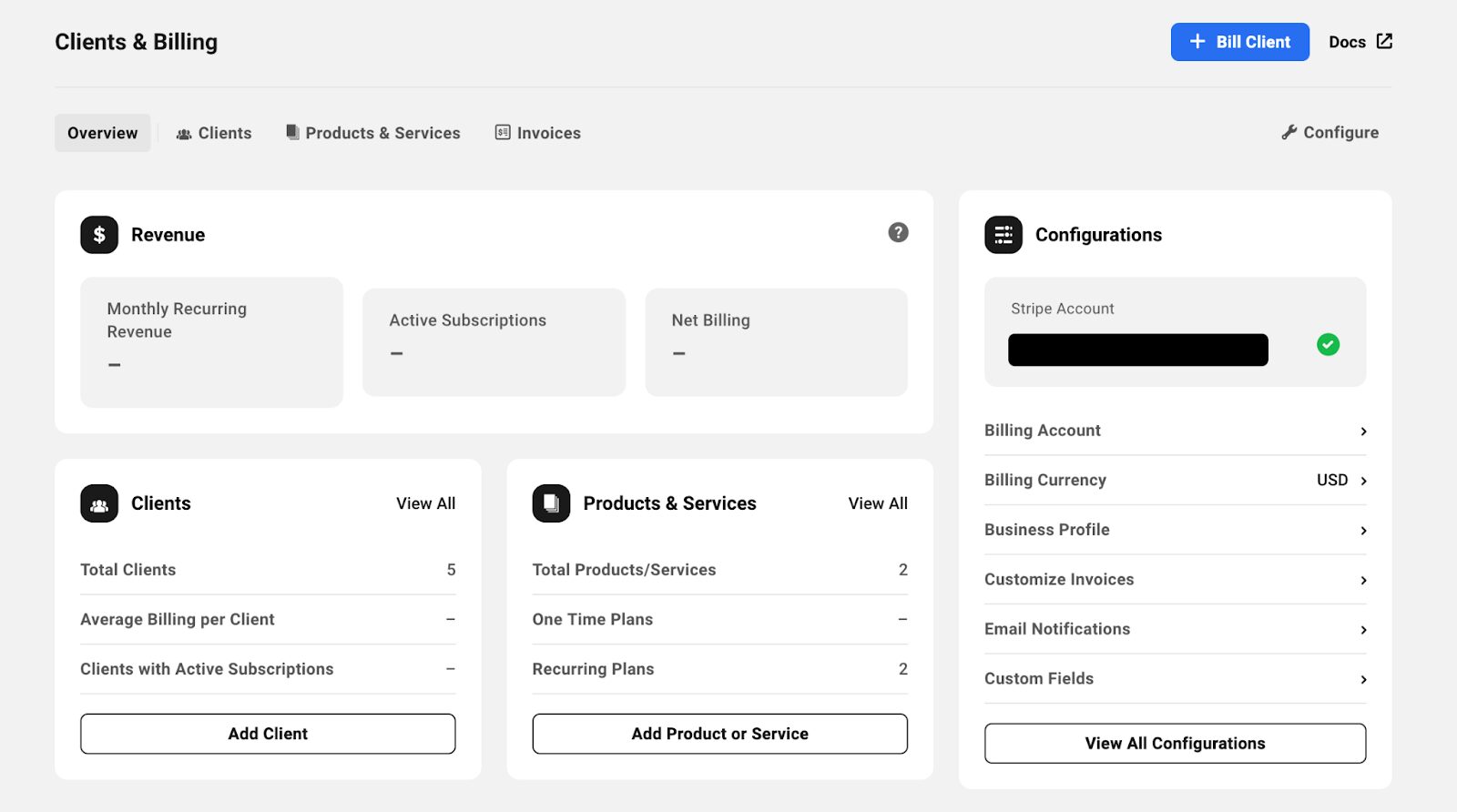 It's an automated process to manage your client sites and even invoice clients.
It uses the Stripe payment system, which is easy to set up and allows you to monitor income. However, WPMU Dev does charge a 5% fee on the transaction on top of Stripe's processing fee of 2.9%+30¢. The 5% add-on is a little pricey, but for automation and easy management of clients, your sites might be worth the 8% cost.
Security
Defender Pro is the security plugin running the backend process. It's a relatively simple plugin, offering several security features commonly found in WordFence and other security plugins.
They include:
2-Factor authentication
Brute force protection
Audit logging
WordPress login masking
Security headers
I like to hide the WordPress login, so you have to know the right path vs. the default/wp-admin. Also, having 2-factor authentication prevents stolen logins from gaining access.
Performance
Performance is powered by two plugins, Smush and Hummingbird.
The performance check is run with data from Lighthouse. So it's the best reflection of your site's performance and isn't using some proprietary scoring method.
Smush optimizes images, creating different sized images and converting them to JPEGs or WebP, depending on your preference. It's hands down the best way to optimize images and is why WPMU Dev became well known.
Hummingbird is more like WP Rocket, offering GZip, caching, and other optimization options. It gets the job done. Also, the plugin can connect to Cloudflare to clear the cache on the DNS level.
SEO
SmartCrawl Pro is an SEO plugin similar to Yoast or SEO Press. The biggest downside I encountered is that there was only the ability to import data from Yoast. Other plugins are currently not supported, and it doesn't seem like they'll support other options in the near future.
The two things I did like are the built-in crawls to view the pages set up along with the on-page SEO. There is also an auto-linking function that helps prevent orphaned pages. Otherwise, the SEO plugin offers all the same features as Yoast or SEO Press with sitemaps and the ability to edit meta tags.
Backups
It's clear-cut here. The backups can be done in daily, weekly, or monthly increments. You get 50 GB included in the plan. Depending on the size and number of sites, you may have to upgrade to more storage. There is an option to backup to other sources like AWS, Dropbox, or Google Drive.
The only downside is that WPMU Dev has to install another plugin for doing the backups. It works with any host, and I have mine set up for daily backups. ManageWP did offer hourly, twice a day, and various other options, which allows you to have a more up-to-date backup. Backups more often can come in handy when you're hosting or managing a high-volume e-commerce site, where a backup could cause a loss of orders and other data.
Uptime
The uptime monitor is reasonably clear cut too. The uptime function is built into the Hummingbird plugin. It monitors when your site goes down, but it also monitors server response time. That helps to give you a sense of how healthy the server is.
When I compare the feature to other options or even ManageWP, it lacks a lot of features. For example, it's monitoring for the case where the whole server goes down and doesn't have options for keyword monitoring. Also, it requires another plugin vs. one from ManageWP. That isn't appealing, but I would've added an optimization plugin like WP Rocket anyways.
Analytics
WPMU Dev Hub offers basic analytics. You can have it enabled or disable the tracking. It's built right into the WPMU Dev dashboard. The data includes:
Pageviews
Unique visits
Visit time
Bounce rate
Entrances
Exit rate
I use Fathom Analytics for tracking and data. However, having the data inside WordPress is excellent for customers who may feel overwhelmed with Google Analytics. On the other hand, it feels a bit out of place; I'd rather have the ability to port in Google Analytics data vs. putting in another tracker.
Hosting
There is an option for managed WordPress hosting from WPMU Dev. They are fairly priced, starting at $10 a month and scaling up. The hosting is on Linode and Digital Ocean. Each instance can only support one WordPress install. This prevents loading up one of the instances and slowing down that virtual private server (VPS).
A $10 credit given is good for having a staging site to test or try new plugins/tools. For larger or high traffic sites higher pricing tiers could make sense for the hosting. WPMU Dev doesn't prevent WooCommerce or WordPress Multisite on an instance, but they recommend a higher-tier hosting plan. I would consider moving more sites to them in the future. They offer a web application firewall (WAF) on all the hosting plans.
If security and performance are top priorities, I would move mission-critical sites to this hosting. It's way more affordable than WP Engine or other managed hosting solutions.
Form Software
The form software isn't as robust as Gravity Forms but it does offer most basic functionality that other form software offers.
There is Stripe and Paypal support that allows you to accept payments on your site. I use it to accept meeting bookings that are paid consultations. They have Google Recaptcha, honeypot, and Akismet for spam protection. You can do e-signatures, dynamic pre-filling, conditional logic, quizzes, polls, and more. Another plus is the software logs each submission in the backend so you can reference the admin area if you don't receive the email or delete it in the future.
Forminator is supported via shortcodes but doesn't have any page builder support. Gravity Forms has support via Essential Addons, so you could easily style within the page builder. Forminator requires you to write CSS if you want to match a certain style or design you want.
TL;DR
WPMU Dev is a solid choice for hosting, plugins, and a WordPress management platform. For me, I am saving at least $1,500 if not more a year.
For $40 a month you're getting security, backups, performance optimization, SEO tools, support, form software, and more. It's a massive deal that allows you as a freelancer or agency to manage your site and save money.
They offer a robust set of tools and WPMU Dev is well known for their development of other plugins like Smush. Beyond the plugins, they have hosted the largest multisite network with close to 3 million sites on it.
I made the switch, with a little bit of pain when importing data from SEO Press since there wasn't an easy way to import existing data. Then the rest of the plugins are set up easily. This is because there is a way to save the configuration and then apply that to multiple other sites.