How to Build a Profitable Niche Website with SEO?
Have you thought about starting a blog around a hobby or interest you have, but you're unsure if it's a common interest?
That's how you know you may be onto a niche site idea. If you have a hobby and others enjoy it too, there is likely a large enough pool of people online who are also interested in your niche hobby. They would want to read about how to get started, best practices, or even reviews of products that are used within the niche.
There are ways to monetize your hobby or niche interest today. I have done it in the past with hobbies or interests. For example, I started a technology blog, Digital Bounds, back in high school and college, which allowed me to review new unreleased gadgets and attend launches of new phones or tech devices.
Let's talk about niche sites, how to get topics, what to do, and how to start.
What is a Niche Website
First, let's backtrack a little and further discuss what is a niche website.
A niche website is a specialized, theme-based website that offers information, goods, and/or reviews within a particular topic or genre.
Niche websites are usually focused on one specific field of expertise. A niche website should provide only a few types of content, such as reviews, info posts, and long-form articles. The content is often search engine optimized to rank for the searches quickly, and since it's a niche, often there is not a large website or blog that dominates the area.
Example of a niche site that has become very popular: https://thesavvybackpacker.com/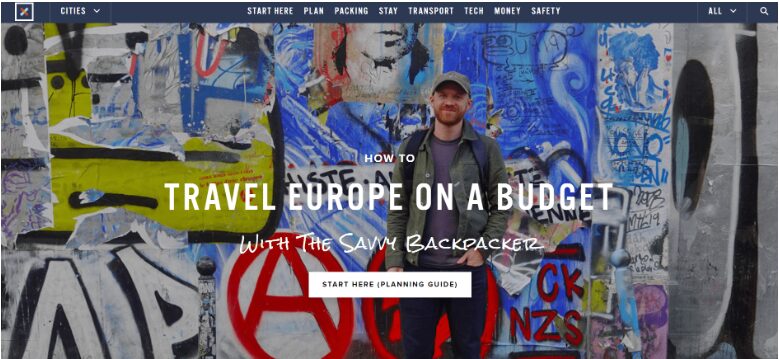 This is one of the most successful niche websites; the website itself is particular and narrow where you can easily find sights, cuisine, hotels, transportation, and many more aspects for your future traveling.
This website provides information for future traveling, but it creates a sense of community where you can plan and meet others interested in the same topic. In addition, the site boasts its appeal with all the professional photos from around Europe to build trust within the niche community.
How to build a profitable niche website with SEO
The main idea behind successful niche websites is to find a profitable niche or even micro niches.
Now that we know how niche websites work, consider this table on how to create a profitable niche website:
Brainstorm your niche Ideas
Choose your domain name carefully
Build your site and fast web hosting
Outline your site structure and architecture
Keyword search
Write content
Ads, affiliate links, and traffic
Create an SEO plan for the future
1. Brainstorm your niche ideas
Because the main goal is to establish a lucrative niche website, you'll need to develop a strong niche site idea. And choosing a niche topic to target is the first step in creating a successful niche website. So, what general topic or, better yet, what profitable niche are you interested in?
You must discover what interests you since this will keep you engaged in the content development process and, therefore, more likely to succeed.
Some examples of niches:
Alcohol – whiskey, bourbon, tequila
Gardening – indoor gardening, vertical farming
Gaming – WoW, Apex, Zelda
Travel – honeymoon travel, senior travel
Sports – pickleball, spike ball, golf
2. Choose your domain name carefully
Your domain name should be consistent with your brand and provide your target audience with a sense of your company's content. It should be brief, straightforward, and memorable. Having your niche keyword in the title is important, as it can help with rankings and telling users on search about topics.
Here are some websites that will provide generally concise and effective names for domains:
I personally always try to buy the dot com version. I feel like if you can find those and the name is appealing. I would buy that over another extension like .photo or .business. But, there are times when those make sense or can be more attractive than any available dot com.
3. Build your site and get reputable web hosting
Google has made it clear that site speed is a ranking factor in SEO. Because visitors have little to no attention span and expect web pages to load in seconds, Google strives to deliver just those results that meet that requirement.
While you can try a variety of ways to make your site faster over time, choose a fast managed web hosting for your CMS. You will likely use WordPress for blogging and should align your host with a top-tier one like WP Engine or WPMU Dev Hosting. They are not shared hosting options that give you the site its bandwidth and storage that isn't shared with anyone else.
4. Outline your site Structure and Architecture
This may not seem crucial right now if you're starting with a simple site with only a few pages. However, it's still a good idea to sketch out your site architecture ahead of time so that you have something to work with as you go.
To better index your site, search engine bots must be able to crawl content on your pages. This enables them to collect the data needed to classify and rank each page appropriately. Before you begin creating, make an outline or site map of the pages your website will need. For example, you may begin with a homepage, about page, contact page, and services and sub-services pages. If you want to start blogging in the future, this is an excellent place to start.
Websites around niches should have categories and even use tags to break down things further. For example, you can use tags to show reviews, information posts, how-tos, or other content types. In addition, the categories can highlight the content vertices. For example, you can have vertices around in-door gardening, urban gardening, vertical farming, and other sub-niches if you are writing about gardening.
5. Keyword Search
A large element of SEO is knowing how to conduct keyword research.
To effectively execute many of the other items on this list, you must first have a clear concept of the primary phrases and keywords users search for when researching within a niche. You want to find low competition keywords with either high or medium search volume.
A variety of SEO tools offer keyword suggestions and information on the volume of traffic and competition you can expect for each phrase. Most ones out there are paid; I recommend using Ahrefs. It's one of the best options out there, and they have plans that start at $99, which is much cheaper than others out there.
6. Write content
Before going live, finish your SEO-optimized landing pages, homepage, and other more static pages, where the content won't change frequently. You'll want to undertake extensive keyword research before publishing this material because it should be prepared with certain keywords in mind.
You should keep your website updated and expanded regularly. You often want to start off with a decent amount of content. Prepare a month's worth of content ahead of time. This allows you to keep ahead of the competition, providing you enough time to create new material as time goes on. Plus, sites with something to start with will allow you to have pages that can already index.
Make a detailed editorial calendar to keep track of your content. You may, for example, create a week-by-week schedule of content topics and keywords linked with those topics. Some websites will plan out a comprehensive content calendar months ahead of time or even for the entire year. Make a list of industry events or public holidays that are important to your niche and that you should include in pitches.
7. Ads, Affiliate Links, and Traffic
On niche websites, there are limited ways to monetize the content. You can either put ads on the site or place affiliate links within the content. Both are valid options. There are tons of affiliate programs out there and a handful of useful ad networks.
The ad networks that I have found to be the best include:
Media Vine
Ad Thrive
Ezoic
Monumetrics
The affiliate programs that are the best depend upon the niche and then what products are out there. Most sites will anchor with one or two programs, I often sprinkle in Amazon Affiliate too, but there may be one within a niche that works best. I recently came across Affiliate Corner, which helps pick the best affiliate programs for your niche site.
Beyond optimizing the niche site for search engines, you need to generate more traffic to the site. The best way is to do Guest Blogging. This is when you invite someone from outside your site to create a blog that will be published on your website. Typically, the writer will work in the same industry as your site or be an expert on topics related to the niche. You could even take some content you'd published on your site and send it to another blog to capture a powerful backlink.
It can be a fantastic approach to collaborate with others in the same business, whether in the field of sales collaboration or in conjunction with affiliate marketing techniques.
8. Create an SEO plan for the future
If you're just getting started, you'll have to get used to everything on this list. It may already seem like a lot to you, but SEO is a continuous, long-term effort.
To appear in search engines when people are searching for the information or products you writing about, you must devote significant time and effort to offering constant value on the website and establishing authority across the internet.
Many niche sites don't have one writer. It may be you starting out, but consider hiring another writer to create content that could expand your reach and increase the amount of content that could be published.
Whatever path you select, it's critical that you make it a priority to keep pushing content and have a long-term approach to progress. SEO is a long process.
TL;DR
There are tons of ways to create a niche site, and many times they don't take a lot of work to build a decent amount of traffic. They do require hard work and quality content, but the work could pay dividends years after it has been completed and left to grow.
The sites, too, can become highly profitable with the right ad network and even affiliate programs. I would check out the Affiliate Corner site first.
If you have any questions or want some help getting a niche site set up, tweet me @leonhitchens.