New WordPress & Elementor-Based Bounce Castle Theme
When I lurk on Facebook Marketplace, one of the most common posts is someone advertising bounce castles, slides, and other party supplies. Often they're posting it on the marketplace or groups with their phone number, a Gmail address, or pointing someone to Facebook Page.
All the booking and inventory is managed through a person. Often, its an excel sheet and someone sending photos with options or pricing. I always ask these entrepreneurs why they don't have a website or presence beyond Facebook. I get one of two answers:
The marketing efforts are all on Facebook since parents are online and in these FB groups.
They could never find a theme on Squarespace or WordPress theme that fits their brand. Plus, most looked very ugly and were not modern looking.
I have been building WordPress Themes based on Elementor Pro for a while now. I thought, why not build a theme for Bounce Castle businesses?
I started researching and found all the themes were poorly designed or didn't have custom pages built to add new bounce castles easily. Some of the themes were built for WooCommerce, which means payment processing and user accounts. The business owners running these businesses wanted to talk to someone or have them confirm on a call/text.
Envato Elements which often has the biggest selection of WordPress plugins and themes, didn't have many bounce castle-related themes. There were a few party rental or kid-themed designs, but again they weren't flexible enough to move into just bounce castles and most were not very modern looking.
Bounce Castle Theme
That is when I realized this was an underserved market.
I designed and developed this WordPress theme for anyone selling bounce castles, jumpy castles, inflatable bounces, or other party rental equipment.
The theme uses advanced custom fields to easily added castles over time. Those pages act like a blog page without any need to use the Elementor editor to keep adding castles. Easily being able to add bounces makes managing the business online a breeze!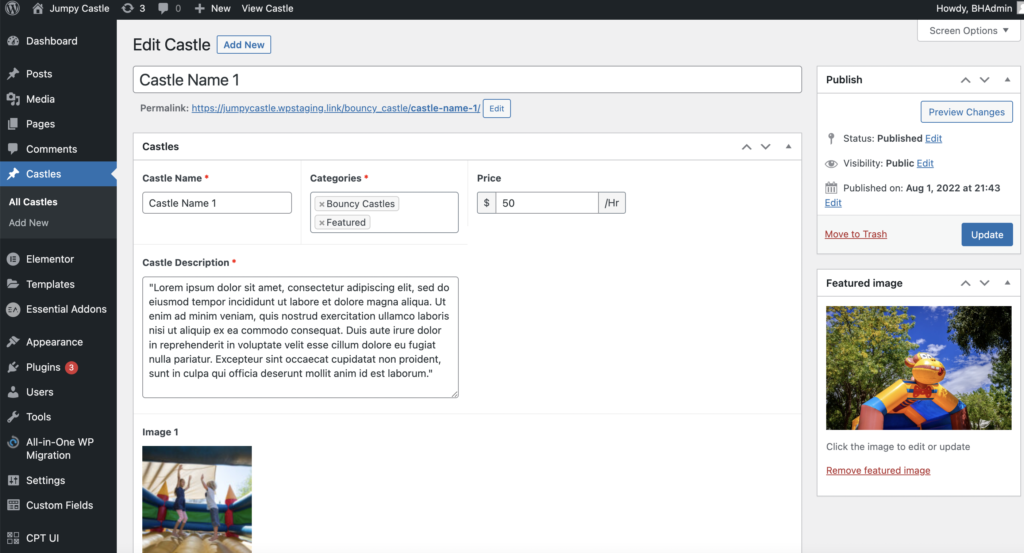 The theme is priced at $69.99 for the All-in-One version and the Elementor-based template. Both versions offer the same items, but the All-in-One allows you to import with the free plugin and have a whole website set up. The Elementor template is more flexible and allows you to add which pages you want and adjust colors and the overall design.
Buy on
There is also an installed/managed version you can buy via Gumroad, which offers a year of hosting, Elementor Pro, and 2 hours of adjustments/support.