Best Calendar Scheduling App: Savvy Cal
Keeping an organized calendar is increasingly challenging. However, if you manage to keep a clean calendar, scheduling new meetings is even harder.
If you schedule those meetings yourself, you are likely playing calendar tag or struggling to find a time that works for you and the others attending the meeting. COVID changed the landscape around calendars and meetings. Not only did Zoom become a mainstay, but scheduling apps like Calendly also became more socially acceptable.
Calendly is a known tool on the market, but it's not an enjoyable experience. The person trying to schedule has to toggle between days and times, then their calendar to find a time.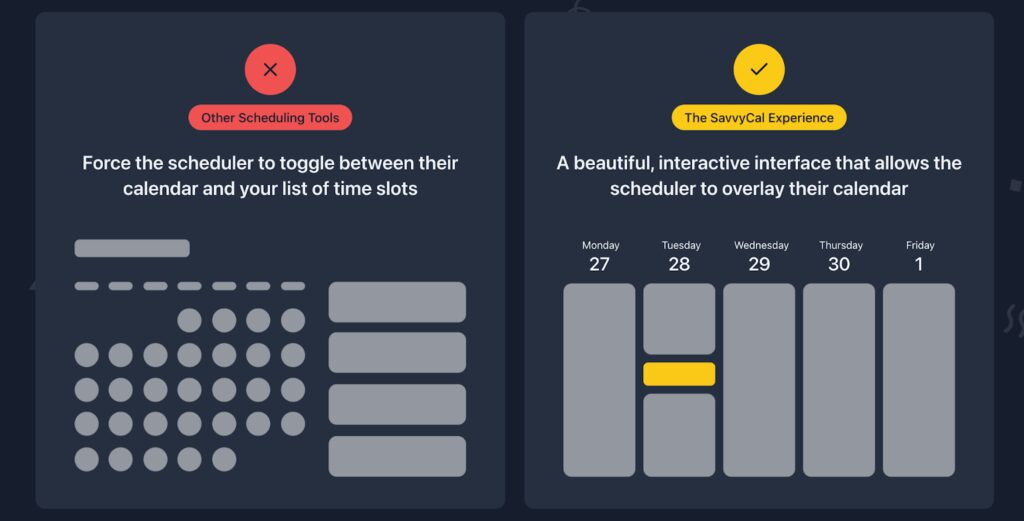 I used Calendly for a while; I knew I didn't like the experience but didn't have a better option. Then I found Savvy Cal.
Savvy Cal is a better alternative to Calendly and other calendar scheduling apps.
The plus is Savvy Cal is an indie project from Derrick Remier, who is a serial entrepreneur.
Savvy Cal Has a Better Calendar System
The biggest appeal is that Savvy Cal has an interactive interface that acts more like a Google Calendar interface. For example, it allows you to see open slots for the week, then you can book your 15 min, 30 min, or 45 min meeting.
Also, Savvy Cal allows the end-user to overlay their own calendar. So they don't have to go back and forth between their calendar app and the Savvy Cal link.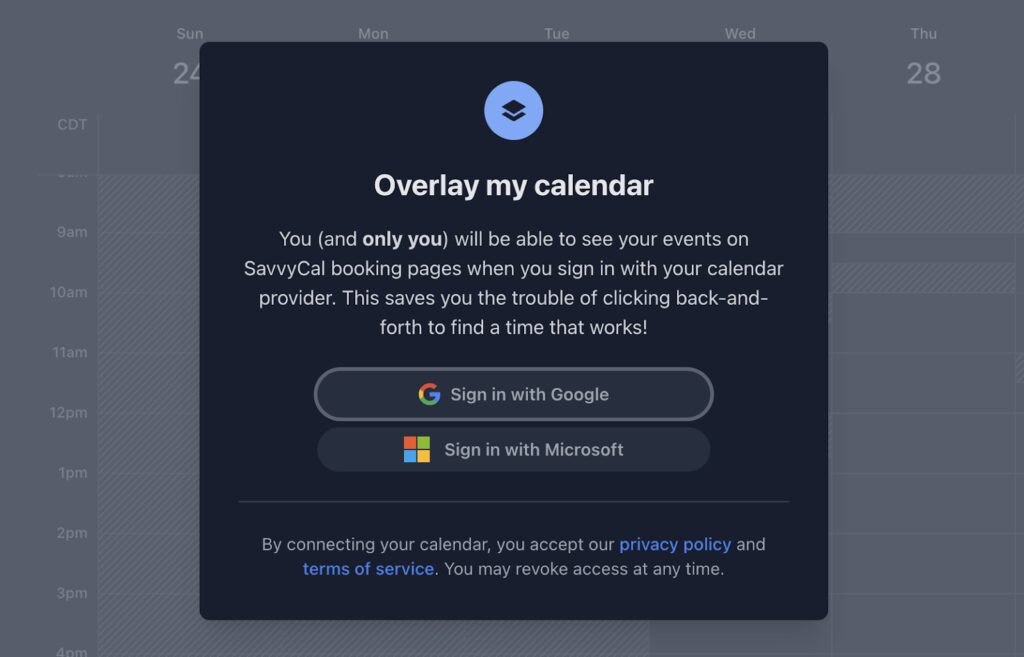 The experience on Savvy Cal is unmatched by any other scheduling app. It's easy to set up, share links, and manage.
Savvy Cal Big Features
Savvy Cal does offer a number of unique features, including:
Ranked availability, showing the times you prefer instead of all your open slots.
Pre-linked Calendar Settings allow you to route to different calendars based on the link.
Limit on scheduling frequency, allowing you to set the number of meetings in a day allowed and the time between meetings.
Delegate account access, which allows you to share access to your assistant or team who manages your calendar.
Payment options for events allow you to charge an amount for a time slot on your calendar through Stripe.
Multiple meeting lengths in one link, giving you the ability to let the other participants choose the length from 15 mins to 30 mins.
Savvy Cal Clear Pricing
Calendly offers a number of different plans. There is a free option, a plan at $8 /month, a plan at $12 /month, and a plan at $16 /month. The Calendly plans differ based on the number of calendar connections, how many events open, and other customization options.
Savvy Cal offers two plans and no free option. The two plans are the following:
$12 /month with unlimited calendars, unlimited links, and unlimited events
$20 /month with all of the above plus no branding for Savvy Cal, payment for events, and delegate access to assistants
It's easy to choose the Savvy Cal pricing; although there is no free option, the other options are fair and clear on what you get.
Calendly Does Have More Features
There are a few features that are not on Savvy Cal yet.
Calendly still offers more customization. Also, Calendly provides the ability to send post-event emails to the attendees. Depending on the calendar event, I could send:
A thank you for their time
A follow up asking for specific notes (website assets, marketing content)
An outline of the next steps if it's a client
Calendly also offers a more robust set of integrations with Zapier. Savvy Cal does integrate with the Zapier webhook, but it's still an early development. That Zapier integration is also a way you could send follow-up emails with Savvy Cal.
I've opted to create templates in Super Human and send those out after meetings so I don't have to stress about building a system or trying to make sure the right content goes out at the right time.
Final Thoughts
While Savvy Cal is lacking in a few features that are appealing for power users, Savvy Cal is a better overall experience. It's also supporting an indie-hacker/small business online vs. a massive mega-corporation.
On top of that, using Savvy Cal feels better. You don't have to impose your schedule upon others. Savvy Calendar makes it feel like you're giving the other person the ability to fit the meeting into their schedule. They get to see their calendar overlaid to pick a time that meets your schedule but doesn't feel stressful.
Savvy Cal pricing is also much clearer and more concise. You don't have to wonder if you're getting the best deal or picked the right plan as you do on Calendly. If you want to check out Savvy Cal, use my link here.
Here is my Savvy Cal link if you have any questions or want to talk to me.