Which is better for audio – Twitter Spaces or Clubhouse?
I recently got an invite for Clubhouse, and I discovered how to access Twitter Spaces.
Both have apps have the same concept. Each offers open rooms for anyone to talk about current events or around any topic that you could imagine.
Clubhouse is currently iOS only, plus it requires an invite. Twitter Space is still a beta with only a handful of users who have hosting privileges. Still, I think while everyone is talking about Clubhouse on Twitter, the Twitter Spaces feature could make waves when it becomes more widely available.
My thoughts on Clubhouse
Clubhouse kicked off the audio space tug-of-war over the past couple of months.
The iOS app is home to techies, social media gurus, and investors. The app as a whole feels like an extension of a conference panel discussion. Many room moderators often treat them that way. Overall, I follow a lot of strangers on the app. This isn't wrong or bad, but it does make for many introductions and small talk in rooms.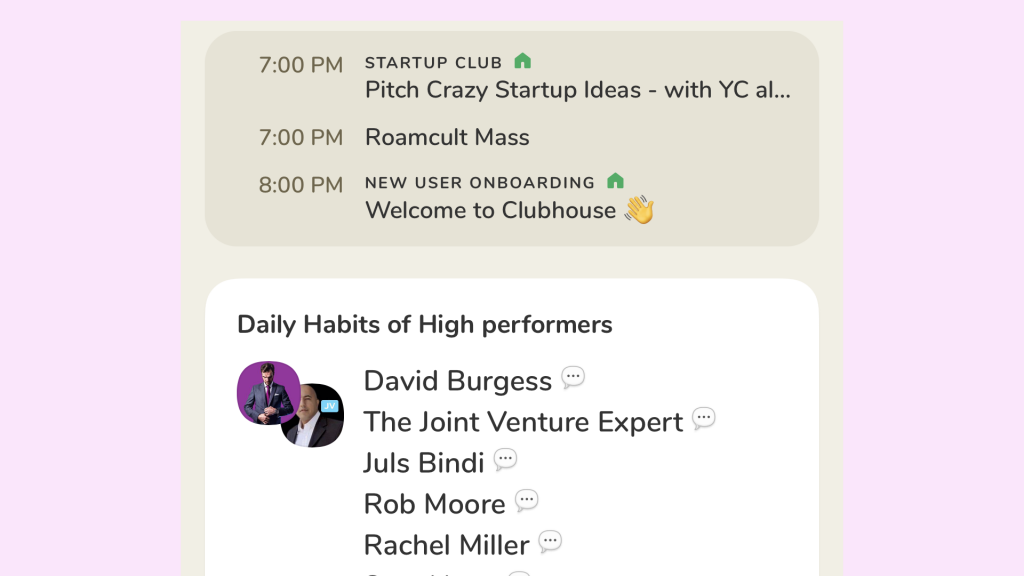 Topics
As I mentioned, techies, social media gurus, and investors are the most prominent communities on Clubhouse. I've had a hard time finding a decent room or topic that I found interesting.
A lot of the rooms that bubble up to the top are hustle porn, how to get rich, roam app discussions, or about bitcoin. These are the early adopters so far. There is also a lot of talk around moderation and what conversations should not be on the app, but I haven't run into conversations that would raise alarms.
Features
The app is straightforward. You join a room -> raise a hand to talk or silently listen. There is no chat, reactions, or a secondary way to communicate other than with audio.
Individual rooms provide rules, but most I've found do not clearly list any rules. You can follow speakers and get notified anytime they're talking in another. This notification was overwhelming; it almost felt like I turned on Tweet notifications for someone who tweeted non-stop.
Audio Quality
I would rate audio quality overall at a low 3. The audio quality suffers from most folks using their earbuds or Airpods as microphones. Add in people who have poor LTE or Wi-Fi connections. This combination made for an awful experience.
I experienced several rooms with speakers in-public spaces with a ton of background noise talking or someone driving where they cut out and sounded like a robot.
My Thoughts on Twitter Spaces
Twitter Spaces is the new kid on the block. They're only getting started, with a super early beta. From what I can tell, only a handful of people can host rooms. Many of the users who host privileges are Twitter employees.
This small test looks like it will become something much more extensive for the company. Twitter recently purchased the Breaker podcasting app to build ways for people to communicate better and build the future of audio.
Where to Find Twitter Spaces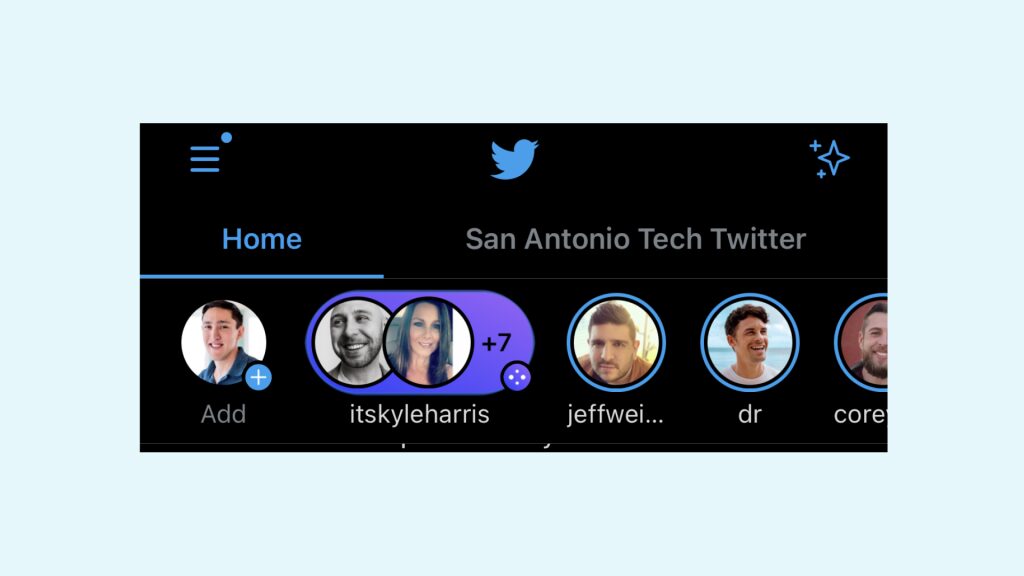 Twitter Space is only available on mobile and currently appears where the fleets do. They stand out with the purple-ish double avatar. The double avatar is combo of the host and whoever is speaking at the moment. Then it'll tell you how many others are in the room before you jump in.
Topics
Currently, topics focus on Twitter Spaces. I've heard more folks talk about the features, ask questions on when it will go into a more significant test, and discuss how it compares to Clubhouse.
I do have high hopes for the spaces. Twitter has a built-in social graph of people I follow that I find interesting, who I have worked with, and even people I know IRL. The combination should reduce the conference feel and let the conversations feel more natural.
More folks on Twitter are interested in current events, indie hacking, gardening, gaming, and more. There will be spaces with bitcoin, hustle porn, and investing, but I think those won't drown out the other topics.
Features
Twitter Spaces offers a robust set of features. They include:
Emoji reactions
Live transcripts
Discuss Tweets in spaces
Twitter is working on including more accessibility features in Spaces. The transcripts were the first part of that goal. It allows you to listen but also read what someone is saying. I found it handy when I couldn't clearly understand what someone said or keep the volume low and read.
The emoji reactions were a welcomed addition. I can currently 👋, 💯, or✌️. I hope Twitter Adds in more reactions like 👏 or 🤯. Both of which are emojis I would love to often use in conversations.
Having a Tweet as a discussion point was a great way to blend Twitter and Twitter Spaces. Anyone could bring a Tweet up to talk about the topic or the Tweet specifically. I could imagine this working in many ways, especially for current events.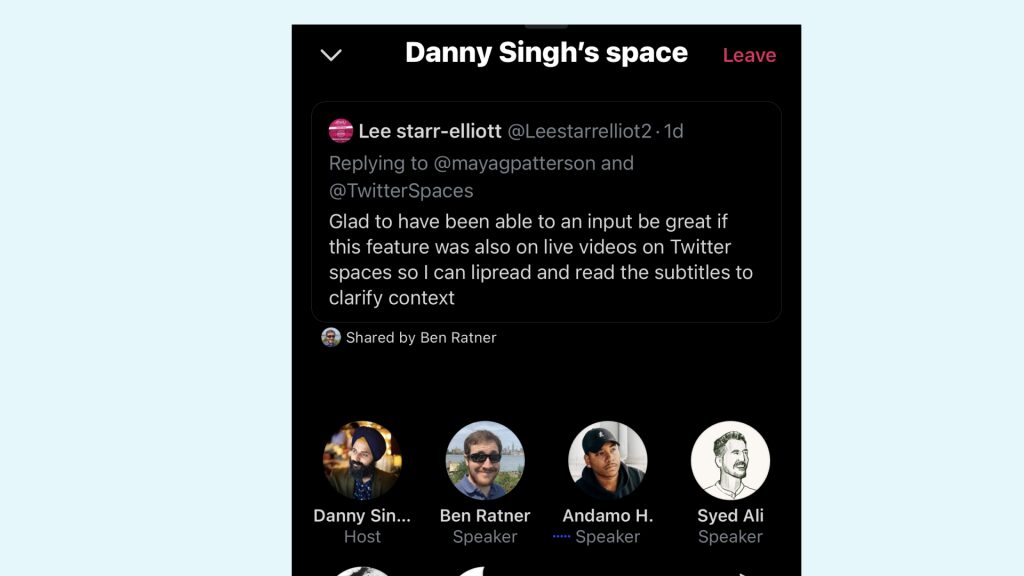 Audio Quality
I would rate Twitter Space audio quality a 5/10. The audio sounded better at a base level. There is still the limitation of folks using headphones or AirPods as mics, but the streaming quality sounded better.
I feel like Twitter has been working on audio, live video, and other digital mediums for a while now. They have a more robust understanding, and they have a much better infrastructure to handle this audio. Plus, Twitter went out and bought a company of folks who understand and know audio.
Final Thoughts
While Clubhouse is the town's talk, Twitter Spaces is shaping up to be a more robust version of the drop-in audio app.
Now, I still think Twitter Spaces has a chance. I do think back to Twitter killing Vine and, more recently, killing Periscope. As a company, they could shift at any point and kill Twitter Spaces for many reasons. Twitter has a built-in social network with people everyone already follows. Clubhouse is trying to build that now, but the invite system limits them.
I am going to watch closely to see how both of these platforms grow. I will stay active on Clubhouse until Twitter Spaces opens up for more users, then I will re-review the two apps.